Best selection of
USA phone cards
and international calling cards. Start calling worldwide today.
Buy our gift card in seconds and avoid holiday hassle!
Gift card is a delightful present to give. You do not have to spend hours choosing a gift, standing in lines or worrying about shipping and delivery! And the recipient is entitled to any calling from a broad selection! You buy a card, they choose a card!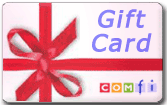 It's simple! You are just 2 steps away:
Select the amount of the gift card (click on button above) and place your order online.
Just a few seconds later, you receive an e-mail with a virtual gift card and redemption instructions.
Forward this e-mail to the recipient.