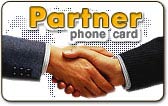 Buy Now -
ON SALE!
No Tax, No Fees, No Hidden Charges
| | |
| --- | --- |
| Refillable Permanent PIN | Yes |
| PIN-less Dial | Yes |
| Speed Dial | Yes |
| Call History (CDR) | Yes |
| Web Callback | Yes |
| PIN Mobile App | Yes |
| Connection Fee | No |
| Maintenance Fee | 59 c/biweekly |
| Rounding | 3 minute |
| Toll Free | Yes |
| Local Access | Yes |
| Surcharge | 15% |
| Pay Phone Charge | 99c |
| Validity Period | Unlimited* |
| Prompt Languages | English |
*Card expires if no refill within 6 months
Service provided by NTC
Partner Overview
The Partner phone card is a Permanent PIN card that provides the convenience of PIN Free Access. The handy Refill option means you need never be caught without minutes. And you get low calling rates to many countries, high quality connections, Online Call History access, and the benefit of Toll Free Access Numbers. Your search for the perfect Partner ends here!
PIN FREE Access feature: Assign up to 6 phone numbers to one account. Use My Account - My Permanent PINs to add more phone numbers.
Permanent PIN feature: Use when calling from non-assigned phone number.
Refill card (add more funds) at any time. Use My Account - My Permanent PINs to see Balance and Reports.
Save even more by calling Local Access Numbers from your cell phone!

Please read the disclaimer about additional provisions. Rates and fees are subject to change without notice. Application of surcharges and fees has the effect of reducing total minutes on the card.
How to Dial with Partner
1. Dial Access Number and wait for the prompt
2. When you hear the prompt, you can select another prompt language:
Press *0 for English; *1 for Spanish; *2 for Bulgarian; *3 for Polish;
*4 for Tagalog; *5 for Portuguese; *6 for Russian; *7 for Romanian;
*8 for Mandarin; *9 for Arabic.

3. Enter your PIN number and wait for the prompt.
4. Dial your destination number:
-- For International Calls: 011 + Country Code + City Code + Phone Number
-- For calls to/within the US and Canada: 1 + Area Code + Phone Number
• If no connection is established in 30 seconds:
Press star, star, pound, zero (**#0) and the number will automatically redial.

• To dial a different number after a call is complete:
Stay on the line, press star, star (**) and then dial a new number.

For questions regarding connection quality, please contact card's Technical Support. (The number is provided in the email with card's PIN and Dialing Instructions.)
For questions regarding sales or services please
contact us
.
Partner Access Numbers
USA Continental: 1-800-396-9353
USA Hawaii: 1-800-822-1047
Canada: 1-800-796-6235
From mobile or landline with free long-distance: 213-226-8436
US Local Access Numbers
Canada Local Access Numbers
Global Access Numbers