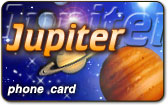 Buy Now -
ON SALE!
No Tax, No Fees, No Hidden Charges
| | |
| --- | --- |
| Refillable Permanent PIN | Yes |
| PIN-less Dial | Yes |
| Call History (CDR) | Yes |
| Connection Fee | No |
| Maintenance Fee | No |
| Rounding | 1 minute |
| Toll Free | Yes (USA, Canada, Russia) |
| Local Access | Yes (US, CA-Montreal, UK-Aberdeen) |
| Surcharge | 18% |
| Pay Phone Charge | 69c |
| Validity Period | Unlimited* |
| Prompt Languages | English, Spanish |
*Card expires if no refill within 6 months
Service provided by COMFI
Jupiter Overview
The Jupiter phone card is a Permanent PIN card with the handy Refill feature, PIN Free Access option and no expiration date! But not only is the Jupiter calling card ultra-convenient, it's also great value with its competitive long-distance rates from the US and Canada and a wide variety of other countries. This popular card also boasts excellent quality connections.
How does it work? - Simple!
When you sign up, you register your phone number with us. Every time you call from a registered phone, your number is recognized automatically after dialing the Access Number. You never have to enter a hard-to-remember PIN!
To place a call from any non-registered phone number, just dial the Access Number, enter your registered phone number and your destination number.
Please read the disclaimer about additional provisions. Rates and fees are subject to change without notice. Application of surcharges and fees has the effect of reducing total minutes on the card.
How to Dial with Jupiter
A. Calling from your registered phone:
-- Dial Access Number, wait for a prompt.
-- Dial your destination number and press the pound (#) key for better connection.
B. Calling from any other phone:
-- Dial Access Number, wait for a prompt.
-- Enter your registered phone number (10 digits), wait for a prompt.
-- Dial your destination number and press the pound (#) key for better connection.
For International Calls: 011 + Country Code + City Code + Phone Number
For calls to/within the US and Canada: 1 + Area Code + Phone Number
* If you don't hear a prompt, please hang up and check that you are dialing according to the instructions.
* If no connection is established within 20 seconds, please hang up to avoid being charged for the call and dial again.

How to place a call from Russia
How to place a call from United Kingdom
Note on using cell phones with the calling card:
-When using a cell phone, please note that after dialing the destination number
you should NOT press Send or Talk as that may start a new call on the other line
(and you may be billed by your cell phone provider for the long distance call).
-Also please check with your cell phone provider about any applicable roaming
charges when using your cell phone abroad.

For questions regarding connection quality, please contact card's Technical Support. (The number is provided in the email with card's PIN and Dialing Instructions.)
For questions regarding sales or services, please
contact us
.
Jupiter Access Numbers
US: (406) 998-1061
US Toll Free: (855) 413-3444 (+2c/min surcharge), (855) 635-5591 (+6c/min)
Alaska/Hawaii: Toll Free: (855) 635-5591 (+6c/min)
US Payphone: (888) 609-4627 (69c/connect + 2c/min surcharge)
Canada: (514) 312-6728
Canada Toll Free: (844) 222-4554 (2c/min surcharge)
Access Numbers