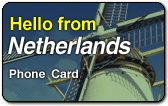 Service provided by IDT
Sorry, this card is out of stock
| | |
| --- | --- |
| Refillable PIN | No |
| PIN-less Dial | No |
| Call History (CDR) | No |
| Connection Fee | ?0.07 for most countries |
| Daily fee | 4¢ |
| Rounding | 1 minute |
| Toll Free | Yes (+?0.03/min) |
| Local Access | Yes |
| Service fee | No |
| Pay Phone Charge | ?0.49/min |
| Validity Period | 90 days* |
| Prompt Languages | English/Dutch |
Overview
The Hello from Netherlands phone card has Toll Free and Local Access Numbers within the Netherlands and low international rates to most European countries, the US and Canada. You'll enjoy high quality connections with the convenience of voice prompts in both Dutch and English. Hello from Netherlands brings the world closer.
Additional Fees:
Connection Fee: Applicable on all calls over 120 seconds duration.
Call Completion Fee: Each time you complete a call a charge of ?0.11 is applied.
Multiple Minutes Charge: ?0.04 charge every 6 minutes.
Please read the disclaimer about additional provisions. Rates and fees are subject to change without notice. Application of surcharges and fees has the effect of reducing total minutes on the card.
How to Dial
1. Dial Access Number.
2. Listen to Welcome Message.
3. Enter your PIN number. (You will be informed of the remaining balance on your card.)
4. Enter the international code and destination number.
5. To make a follow-on call, enter ###
• If you don't hear a prompt, please hang up and check you are dialing according
to the instructions.
• If no connection is established within 20 seconds, please hang up and try again.

For questions regarding connection quality, please contact card's Technical Support. (The number is provided in the email with card's PIN and Dialing Instructions.)
For questions regarding sales or services please
contact us
.