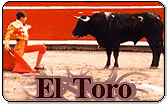 Phone card only
Does not apply to ALL-IN-ONE service
Service provided by IDT
No Tax, No Fees, No Hidden Charges
| | |
| --- | --- |
| Refillable PIN | Yes |
| PIN-less Dial | Yes |
| Call History (CDR) | No |
| Connection Fee | No |
| Maintenance Fee | No |
| Rounding | 1 minute |
| Toll Free | Yes (USA, Canada) |
| Local Access | No |
| Service fee | 15% |
| Pay Phone Charge | 99c |
| Validity Period | Unlimited* |
| Prompt Languages | English, Spanish |
*Card expires in 60 days if-no refill
Overview
The El Toro phone card is a Permanent PIN card with the Refill feature and PIN Free Access option. A Toll Free Access Number is accessible from the US (including Hawaii, Puerto Rico) and from Canada. The card offers low long-distance rates to many countries with high quality connection.
PIN Free Access! Register your phone number to skip dialing a hard-to-remember PIN!
Use "My Account" - "My Permanent PINs" to register up to 4 additional phone numbers.
Refill the card at any time online or by calling Customer Service.
Use "My Account" - "My Permanent PINs" to see the balance and reports.
Please read the disclaimer about additional provisions. Rates and fees are subject to change without notice. Application of surcharges and fees has the effect of reducing total minutes on the card.
How to Dial
1. Dial Access Number, wait for the prompt.
You can select one of the following languages:
*1 for English; *2 for Spanish; *3 for French; *4 for German;
*5 for Italian; *6 for Russian.
2. Enter a PIN number (if Pinless is not setup), wait for the prompt.
3. Dial a destination number:
- For International Calls: 011 (Country code) (City code) (Phone number)
- For calls to/within the US and Canada: 1 (Area code) (Phone number).