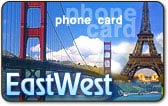 Sorry, this card is out of stock
| | |
| --- | --- |
| Refillable Permanent PIN | No |
| PIN-less Dial | Yes |
| Speed Dial | Yes |
| Call History (CDR) | Yes |
| Web Callback | Yes |
| PIN Mobile App | Yes |
| Connection Fee | No |
| Maintenance Fee | 69 c /week |
| Rounding | 3 minutes |
| Toll Free | Yes (USA/Canada) |
| Local Access | Yes (Canada/Europe) |
| Surcharge | 12% |
| Pay Phone Charge | 99c |
| Validity Period | 3 months* |
| Prompt Languages | English, Spanish, Russian |
Service provided by NTC
EastWest Overview
The EastWest phone card offers the best long distance calling rates to many countries. The card has Toll Free Access in the US and Toll Free/Local Access in Canada, and can also be used from Europe. Enjoy low international calling rates and high quality connection with the EastWest prepaid phone card.
Please read the disclaimer about additional provisions. Rates and fees are subject to change without notice. Application of surcharges and fees has the effect of reducing total minutes on the card.
How to Dial with EastWest
1. Dial Access Number.
2. When you hear the prompt, you can select another prompt language:
Press *0 for English; *1 for Spanish; *2 for Bulgarian; *3 for Polish;
*4 for Tagalog; *5 for Portuguese; *6 for Russian; *7 for Romanian;
*8 for Mandarin; *9 for Arabic.

3. Enter your PIN number and wait for the prompt.
4. Dial your destination number:
-- For International Calls: 011 + Country Code + City Code + Phone Number
-- For calls to/within the US and Canada: 1 + Area Code + Phone Number
• If no connection is established in 30 seconds:
Press star, star, pound, zero (**#0) and the number will automatically redial.
• To dial a different number after a call is complete:
Stay on the line, press star, star (**) and dial a new number.

For questions regarding connection quality, please contact card's Technical Support. (The number is provided in the email with card's PIN and Dialing Instructions.)
For questions regarding sales or services please
contact us
.
EastWest Access Numbers
USA Continental: 1-888-661-3502 (English); 1-888-661-3592 (Spanish); 1-888-520-8749 (Russian)
From mobile or landline with free long-distance: 213-226-8436
Canada: 1-800-796-6235 (add 3c/min.)
Canada and W. Europe Local Access Numbers