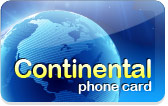 Buy Now -
ON SALE!
No Tax, No Fees, No Hidden Charges
| | |
| --- | --- |
| Refillable Permanent PIN | Yes |
| PIN-less Dial | Yes |
| Speed Dial | Yes |
| Call History (CDR) | Yes |
| VoIP (SIP) Account | Yes |
| PIN Mobile App | Yes |
| Connection Fee | No |
| Maintenance Fee | No |
| Rounding | 3 minutes |
| Toll Free | Yes |
| Local Access | Yes |
| Surcharge | 15% |
| Pay Phone Charge | 99c |
| Validity Period | Unlimited* |
| Prompt Languages | English |
*Card expires if no refill within 6 months
Service provided by COMFI
Continental Overview
The Continental phone card is one of the most versatile cards on the market. Along with the highest quality service and low rates, it is a refillable card with PIN-less dialing, Speed Dial and Online Call History access. The Continental card stands for functionality and convenience.
Refillable Card - Add minutes to your card and keep the same PIN
Speed Dial Dial long numbers with one click
Online Call History Access - Keep track of your calls
PIN-less Dialing Register your phone number and skip entering the PIN
Please note:
This card cannot be used to place calls within the same state, i.e you can only call out of state & out of country. This restriction is due to telecommunication regulations. Please use one of our other calling cards if you need to make in-state calls.
Please read the disclaimer about additional provisions. Rates and fees are subject to change without notice. Application of surcharges and fees has the effect of reducing total minutes on the card.
How to Dial with Continental
1. Dial Access Number and wait for the prompt.
2. Enter your PIN number and wait for the prompt.
3. Dial your destination number and press the pound (#) key for better connection.
-- For International Calls: 011 + Country Code + City Code + Phone Number + #
-- For calls to/within the US and Canada: 1 + Area Code + Phone Number + #
• If connection is not established within 20 seconds, hang up to avoid being charged for the call and dial again.

For questions regarding connection quality, please contact card's Technical Support. (The number is provided in the email with card's PIN and Dialing Instructions.)
For questions regarding sales or services please
contact us
.
Continental Access Numbers
US, Canada: 1-800-209-4537 (+2.2 c/min)
US, Canada, Others: 1-855-640-3227 (+6 c/min)
Others*: Alaska, Hawaii, Guam, Mariana Islands, PR, US VI
From mobile or landline with free long-distance: 903-212-6681
US Local Access Numbers
Global Local Access Numbers